Our Showroom

Our showroom
Our showroom is located at the Nijverheidsweg 19F in Mijdrecht, the Netherlands. In the showroom a wide range of kitchen equipment is available for viewing and testing. Wondering how a vacuum sealer works or how large an oven exactly is? Our showroom employees have entensive knowledge about the products and can tell you exactly how the different machines work. Besides product information our employees can also help you decide what kind of machines would fit your business or range of activities. Curious what we could do for each other? Please contact us for an appointment, you can reach us by phone +31 297 253 969 or mail [email protected].
Showroom opening times:

Monday
08:30–17:00
Tuesday
08:30–17:00
Wednesday
08:30–17:00
Thursday
08:30–17:00
Friday
08:30–17:00
Saturday
Closed
Sunday
Closed
Our workshop
In addition to the showroom, our building also has a small storage space, a workshop and office space. The workshop is occupied by our head technician with 20 years of experience of which almost 10 with Maxima Holland. It will come as no surprise that he knows every machine from both the inside and outside! If you ever have a technical question, it is likely that he will help you with this. Some of his day jobs are maintaining machines, keeping stock of spare parts and managing and supporting the mobile technicians.
Because in addition to a permanent workshop, we also have several Maxima Holland buses. These buses serve as mobile workshops for our mechanics who are on the road every day. In order to guarantee a certain quality standard, we only work with experienced technicians, besides a lot of passion for their profession, they have even more knowledge. This way you can not only come to us for the purchase of a new machine, but also for the (annual) maintenance.
Our warehouse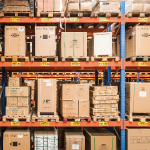 In addition to a storage at the workshop where we keep a stock of spare parts, we have an external warehouse. Thousands of machines are stored in this warehouse. Thanks to this large stock, we often have the possibility to deliver the day after the order is placed. Often this service is seen as a luxury but for us this is business as usual.
If you are able to pick up the product at our external warehouse, it is often even possible to collect it on the day of ordering. However, it is important that you discuss this with one of our colleagues beforehand.
In case you are curious about the condition or costs of the transport, you can take a look at our Delivery & Shipping page. If you still have any questions, you can always contact us by phone or email.
Company video
Showroom Tour